Resources
Development at Fairview
At Fairview, development is
Becoming Better Everyday.
A Commitment to Development is one of the Fairview Commitments that helps guide our behaviors. This means, we push ourselves and support others to continuously learn, apply, and develop personally and professionally. This commitment to development helps us drive a healthier future. When we enhance our knowledge, skills, and behaviors, we demonstrate our value for our people and provide better care for our patients and their families.
Use the tabs below to learn more about development.
A commitment to development helps us drive a healthier future. When we enhance our knowledge, skills, and behaviors, we provide better care for our patients and their families.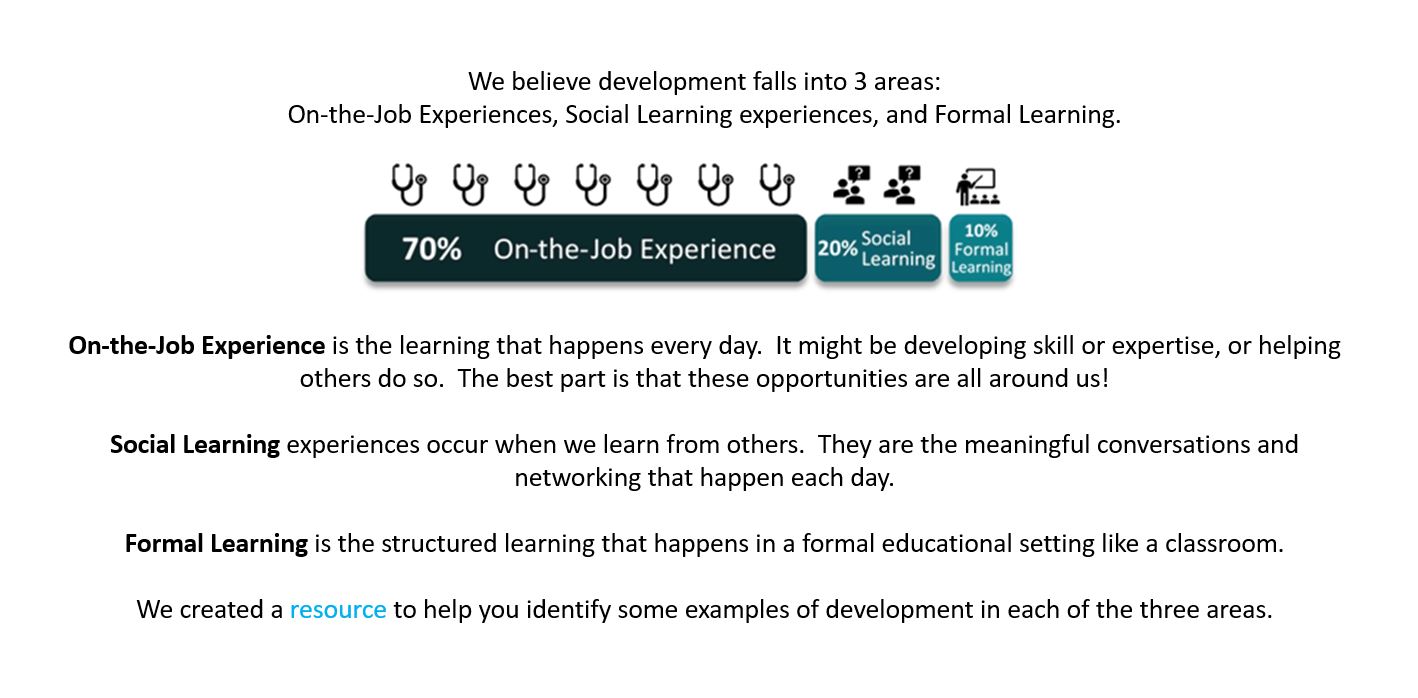 Development that is meaningful to you can increase your engagement and help you achieve your goals.
 Development is: 
| | |
| --- | --- |
| Employee-owned | You own your development goal! It should be meaningful to you and the work you do. |
| A growth-mindset | We learn and grow our entire lives. |
| Empowering | It gives you the chance to seek new learnings. |
| A professional goal | It is focused on becoming better every day, moving care for our patients forward. |
| Purposeful | It is the result of reflection and discussion between an employee and leader about where you can grow in the coming year. |
 There are many ways to continue to develop!
Consider what on-the-job opportunities exist for you in your role. Connect with your leader for help identifying these opportunities!
Check out the OD&L development opportunities available to you!
Leaders – this is a tool for you to help guide development on your team.
As a leader, you have a unique role in development.  Not only is your development important; you also play a role in supporting the development of your employees. We understand our leaders might struggle to find time to focus on their employee's development. However, opportunities to develop exist in the work you and your team do every day.

| | |
| --- | --- |
| Ongoing Conversations | Development is continuous. Leaders can support development by engaging their employees in ongoing conversations. |
| Identify Opportunities | Use the 70/20/10 model to help your employees identify on-the-job learning and development opportunities. Help connect them to others for networking. |
| Help Set a Goal | Help your employee identify their strengths and areas of opportunity. Help them sort through what they're passionate about and what they feel their purpose is. |
| Encourage & Empower | Encourage and empower your employees. Find ways an employee can leverage a strength to advance his/her development. |
| Provide Resources | Share resources with your team on a regular basis: articles, podcasts, opportunities for collaboration. |
| Remove Barriers | Removing barriers is an important part of a leader's role when it comes to employee development. Identify what is getting in the way and work with your employee to find solutions to move forward. |
This page has resources to help you do this.
Leader Conversation Guide

– Use this to help development conversations with your employees.

Team Discussion Guide

– Request the guide at this link to help you begin the discussion about development with your team.

70/20/10

– Examples of development opportunities for your employees.
As our organization and the health care industry rapidly change and innovate, it's important to develop your skills and behaviors to keep pace. We value your development and want to give you opportunities to learn and grow. There are many ways you can develop, including on-the-job and social learning experiences.  We also provide free Development Classes and Webinars throughout the year.
Resources