Financial Terminology
Financial Terminology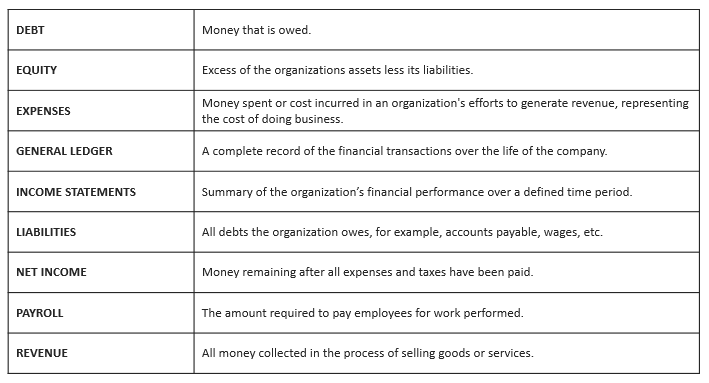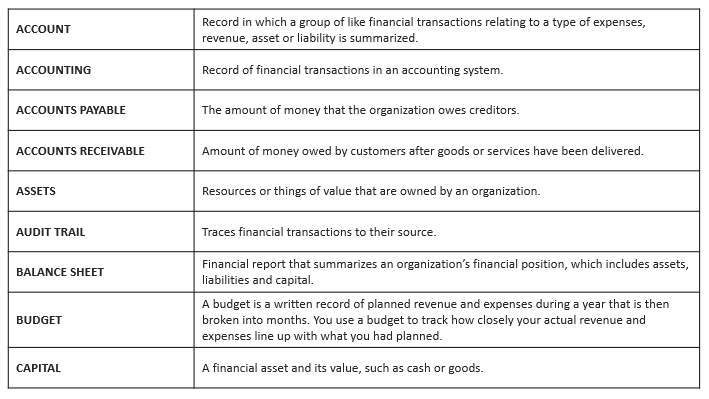 Finance Departments
The Fairview Finance Department is responsible for the functions that help shape the financial performance of the organization.
Finance at Fairview
Services Provided: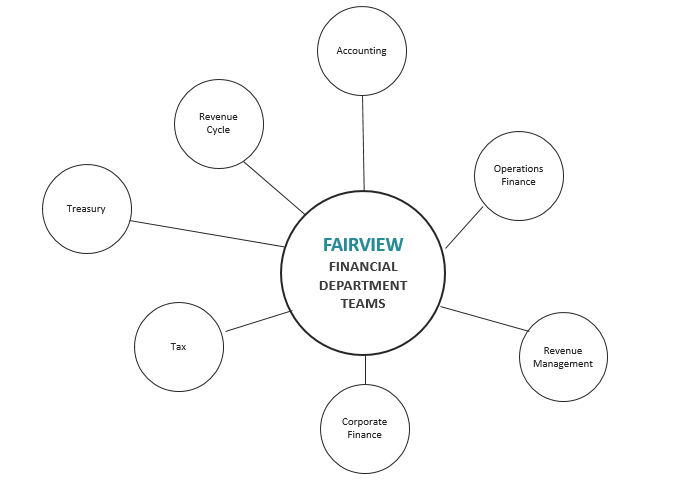 The Fairview Accounting department is responsible for recording, classifying and maintaining Fairview's financial information and sharing that information as appropriate with stakeholders, managers and employees.
Accounting Services:
General accounting and controls
Cost accounting
Accounts payable processing
Operations Finance is a business partner to operations and acts as a liaison between Operations and Finance and brings valuable insights to help leaders across the organization make informed decisions to improve the organization.
Services Provided:
Financial liaison support to leadership
Month-end reporting and analysis
Dialogue and offer suggestions about how to improve financial performance
Provide ad-hoc analysis to support decisions
Support operations in completing financial planning
Revenue Management team is dedicated to improving the organization's financial performance and exceeding our customers' payer and pricing needs.
Services provided:
Charges codes & pricing
Government reimbursement
Managed care/contracting
Revenue recovery
Managed Care is a complex system of plans and  organizations that integrate the financing and delivery of health care services.
Fairview Pricing assists with establishing the fees for services and supplies that are provided throughout our facilities to meet our strategic and tactical pricing plans.
Corporate Finance is in charge of the following for the System:
Strategic analysis
Capital planning
Financial planning and analysis
Operational finance for shared services
Revenue analysis and decision support
The Tax Department is responsible for tax planning, compliance, and tax related aspects of mergers and acquisitions for the organization.
Treasury is responsible for cash/bank management, capital structure and debt compliance, short and long-term investment portfolio management, oversight of retirement plan assets, insurance/financial risk management, cash applications and overall balance sheet management. They focus on capital expenditure policies, investment policies, loan policies. Debt and equity is evaluated to determine how to use it for funding in capital investments.
Revenue Cycle – Wide range of processes to ensure our organization is paid appropriately for the services provided to the patients.
Revenue Cycle includes:
Scheduling and registration
Financial securitization
Documentation
Health Information Management and Coding
Billing and Collections
Revenue Cycle
Revenue Cycle is the financial process that relates to creating, submitting, analyzing and receiving reimbursement for clinical encounters. Revenue cycles processes flow into and affect one another. When process are correctly executed, the cycle performs quite predictably. Errors within the cycle can cause delays or negative effects.
Scheduling and Financial Securing
Assists with setting expectations about
Wait times

Time of procedure or results

Medications

Patient Instructions

Get referral requests
•Coordinate with patient care staff
Patient Registration and Front Desk
Confirm demographics, eligibility, benefits

Tracks no shows and phone calls

Patient co-pays

Reminders for patients about wait times, medications, procedures, etc.

Regulatory requirements
Patient Exam and Procedure
Consider medical necessity

Coordinate with all service providers

Initiate care planning/discharge planning

Utilize structured documentation to capture proper coding

Comply with regulatory mandates
Documentation and Coding
Review documentation to ensure it supports care rendered

Clear, concise, complete, legible

Consider special payorrequirements & ensure documentation or other supporting documents are present
Charge Processing
Maintenance of Charge Master

Charges can be added manually or automatically

Departments are responsible for late charges
Claim Submission
Review of claims information to ensure they are complete & accurate for greatest probability of payment and to prevent denials
Registration error correction

Medical documentation required

Correcting coding/errors

Missing referrals and authorizations
Payment Processing
Billing
Field pay or questions & requests for additional documentation in an effort to get paid

Work with coding to correct errors

Submit appeals

Search for additional coverage

Missing referrals and authorizations
Collection
Collect patient self-pay balances

Verify demographics

Call patients for payments

Payment plans

Charity/Community Care

Outsource to agencies