Nurses to Know with Karen Poor, Director of Nursing Education for Acute Care
As the Director of Nursing Practice and Education for Acute Care in the East Region, Karen Poor uses the knowledge and experiences gained in her 33 years of nursing to support our bedside nurses in providing the best possible care to our patients. That experience began in a small hospital in Osceola, Wisconsin, where she assumed many roles early in her career…because that's what nurses do in small rural hospitals. Eventually Karen became a critical care nurse at St. Paul Ramsey County Medical Center before going to the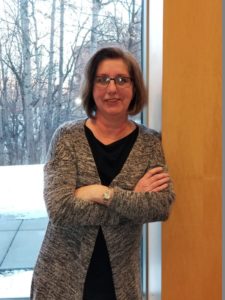 University of Washington in Seattle to get her graduate degree in critical care nursing. When it was time to come home to Minnesota , she began her first journey at St. Joseph's Hospital.
Karen sees her career as being evenly split between being in nursing practice and nursing education – from a nursing assistant in a nursing home to a staff nurse in a rural community; from the big city critical care and emergency/trauma nursing to community hospital based care.
Part of Karen's transformation in nursing was her discovery of a passion for leading clinical practice and education. By 2015 she was helping HealthEast reimagine a model that brought education closer to the bedside where the nursing experts are caring for our patients.
How Do You See Your Role?
As the Director of Nursing Practice and Education I see my job as a grand facilitator. I am the person who helps clarify questions and problems.  I help dedicate resources to remove barriers.  I drive education and practice to those providing care to our patients and I provide the vision and resources to get there.
What Are Some Highlights of Your Work?
I work with the smartest people in the world. The CNS's (Clinical Nurse Specialists) are experts and dedicated to what they do.  They use their knowledge and run with it while always improving patient care. I am amazed by the work they do. The Nurse Educators are the keys to getting practice to the bedside.  They just "get 'er done"!  They are so creative and innovative in the ways they provide education.
In preparation for the Super Bowl , this group is helping to bring attention to human trafficking. It is estimated that 100,000 victims of human trafficking will be brought here for the Super Bowl.  The team is working with the ED's, law enforcement and local advocacy groups to identify and provide help for these victims.  I am very proud of that.
What Development Advice to You Have for Nurses?
I have two pieces of advice. First, love what you do!  If you don't love it, fix it or move on.  If you hate your job it affects everyone around you and that affects our patient care.
Secondly, take responsibility for your own professional development and growth. Think about your development every day.  This makes your continued development a natural part of what you do rather than a difficult life choice.
Read More People 2 Know Posts: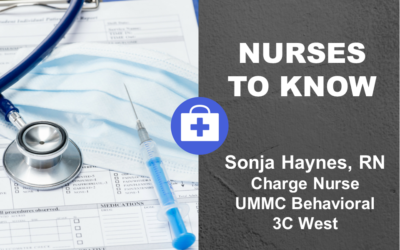 Sonja Hayes is one of the Charge Nurses on the UMMC Behavioral Unit 3C West. Sonja has spent her entire nursing career at Fairview. She started in 1989 working with medical infectious diseases and at that time they would do procedures in the room. In 1996, she...