Off the Record with Didier Rabino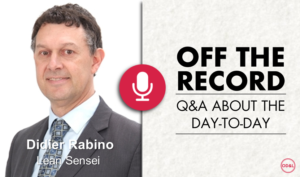 Didier Rabino is Fairview's Lean Sensei and joins the organization from the East Region where he has been sensei for the past 5+ years.
What's a sensei? It means teacher or master. And Didier is a teacher of lean, which means he coaches and mentors leaders and employees to continuously improve and respect everyone's contributions to the organization.
What is best part of your work day?
The best part of my job is when I see the impact of my work. It could be when a process has dramatically improved, when staff overburden has been removed, when someone has a sudden "aha moment," or when a leader is transferring learning.
In two sentences or less, what is something you would like everyone to know about your work?
Whenever I introduce myself and provide my title, I ready myself to answer the question "what is a Lean Sensei?" Besides being a cool job title, the literal Japanese translation of sensei is "one who comes before." My personal translation is "someone who has already made mistakes." Isn't having made mistakes synonymous to having gained experience?
What is one productivity tool or resource that you couldn't live without?
Four months ago, I purchased a Microsoft Surface Tablet. I love this tool and OneNote, a Microsoft application. They help me be more productive and eliminate a lot of paper clutter.
What is a unique way you stay resilient in your role?
I stay highly focused on my role and responsibilities. That may seems weird to some, but I always have my job description with me. It helps me to periodically reflect and adjust my Leader Standard Work and approach.
What is your favorite book or movie?
My favorite movie is Taxi Driver. The acting and direction are just fantastic. Second to none. I am also a fan of Robert De Niro. Over the years and the many movies he acted on, he has always given 100%.
What is your leading Insights color and how do you utilize that color energy?
I am a blue (observer.) I value organization and structure. I am also process and results driven.
Describe a good habit you have.
I never have more than 30 emails in my inbox, which helps me stay organized.
What is the best advice you have ever received?
One of my very first leaders told me "I need you, more than you need me." While it was a bit startling, it made me realize that I needed to take my career in my own hands. It gave me confidence in myself.
What has been a pivotal moment in you professional development and how do you keep the learning alive?
The most important one was when I first did something I'd originally thought was impossible to achieve. It made me appreciate the quote from Seneca: "It is not because things are difficult that we do not dare, it is because we do not dare that they are difficult." It takes a lot to convince me about something "impossible" to achieve,
And I keep learning by teaching. I have a strong network and meet with groups regularly, who challenge me to do what I do even better.
What's a recent mistake you've made? How did you recover?
I was too transparent before a relationship was established. I'm going back to develop trust and mutual understanding with the person.
What other organizations in the community do you work with or are passionate about?
I'm a board member for Association of Manufacturing Excellence and help at the Institute of Industrial Engineers. I like being challenged while helping senior leaders and organization fulfil their mission statement and strategies.
What is one thing that you are exceptional at?
Asking questions. A lot of them. Did you know the average adult only asks about 6 questions a day and kids ask 140 a day? I try to be somewhere in the middle!
Read More People 2 Know Posts: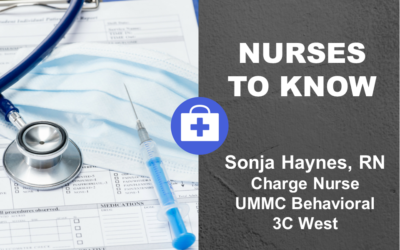 Sonja Hayes is one of the Charge Nurses on the UMMC Behavioral Unit 3C West. Sonja has spent her entire nursing career at Fairview. She started in 1989 working with medical infectious diseases and at that time they would do procedures in the room. In 1996, she...