Off the Record with Jumi Olowokere, Nurse Manager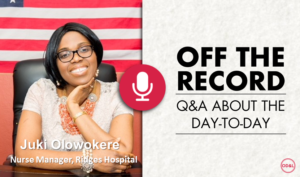 Jumi Olowokere currently leads the Float Pool/Flying Squad, Administrative Supervisors & Staffing office at Fairview Ridges Hospital. She joined Fairview 18 years ago as a staff nurse, became a Patient Care Supervisor after 4 years, then became the manager of the orthopedic unit at Fairview Southdale Hospital. Jumi has taken advantage of the development opportunities in the organization, including participating in Fairview's Catapult Leadership Cohort training in 2016. In her current role, she leads over 120 team members effectively and efficiently. She is driven by purpose, vision and passion for excellent work. Let's learn more about Jumi:
What is best part of your work day?
GEMBA time; whenever I get to connect with my team and huddle to help troubleshoot with them and problem solves issues.
In two sentences or less, what is something you would like everyone to know about your work?
I have passion for what I do, love to make an impact, and do what makes my soul happy.
What is one productivity tool or resource that you couldn't live without?
People.
What is a unique way you stay resilient in your role?
Take time off, continue to be positive.
What is your favorite book or movie?
Gifted Hand by Ben Carlson
 What is your leading Insights color and how do you utilize that color energy?
Green. I use that for relationship building.  I am energetic working with people, and I focus on teamwork.
Describe a good habit you have.
Smiling at all times; good stress relief for me too.
What is the best advice you have ever received?
Take good care of myself, take vacations and don't feel guilty about that!
What has been a pivotal moment in your professional development and how do you keep the learning alive?
Catapult. We were the BEST Catapult Group ever! I stay connected with the group.
What's a recent mistake you've made? How did you recover?
Responding too quickly to an e mail. I responded back immediately to apologize.
What other organizations in the community do you work with or are passionate about.
My church community.
What is one thing that you are exceptional at?
Building a team that excels!
Read More People 2 Know Posts: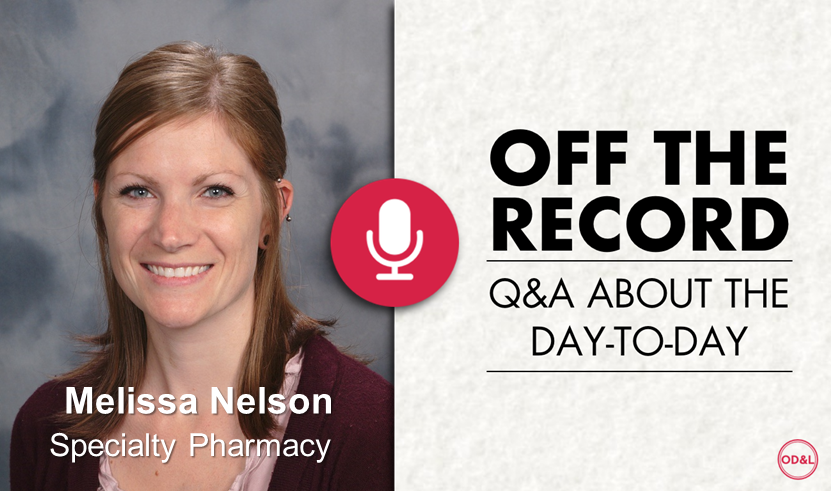 Melissa Nelson joined Fairview in 2006 and her current role is Site Manager and Pharmacist in Charge at the Fairview Specialty Pharmacy. In her role, Melissa helps oversee a team of pharmacists and technicians responsible for managing patients' specialty and mail...