Off the Record with Melissa Nelson, Specialty Pharmacy
Melissa Nelson joined Fairview in 2006 and her current role is Site Manager and Pharmacist in Charge at the Fairview Specialty Pharmacy. In her role, Melissa helps oversee a team of pharmacists and technicians responsible for managing patients' specialty and mail order prescription needs. We sat down with Melissa and asked her questions to learn more about her and her leadership style.
What is the best part of your work day?
I really enjoy working in Specialty Pharmacy because every day is different. It is an ever changing and growing business, which presents new and exciting challenges each week.
In two sentences or less, what is something you would like everyone to know about your work?
At Fairview Specialty Pharmacy we manage patients with chronic and complex diseases. We pride ourselves on educating patients, supporting them to be successful on their therapy, and helping to improve their quality of life.
What is one productivity tool or resource that you couldn't live without?
My laptop. It is my multi-tasking tool and I carry it everywhere I go.
What is a unique way you stay resilient in your role?
I find that when I take better care of myself outside of work, I am more productive and energized at work. I try to exercise, eat right, and make sure that I spend quality time with my family when I am at home.
What is your leading Insights color and how do you utilize that color energy?
I lead with blue. I have a very structured, logical approach to my work. I like to have details in front of me and I'm very analytical in my decision making process.
Describe a good habit you maintain.
When I greet colleagues, I always include their name and try to mention their job role. Something like, "Hi Jane, how are the phones today?" I work with a very large team, and I find this is impactful because people recognize that I know who they are and how they contribute to the departments and organization.
What is the best advice you have ever received?
I heard this many times from senior leaders during my time in the Propel Cohort. "If an opportunity presents itself, take it. Even if it is out of your comfort zone." Doing so has allowed me to acquire new skills and network with individuals I would not have interacted with otherwise.
What has been a pivotal moment in your professional development and how do you keep the learning alive?
Moving into my manager role where I help oversee a team of about 130 people after only 9 months of supervisory experience. I try to gain insights from experienced leaders that I work with every day. I also enjoy participating in extracurricular learning opportunities such as leadership conferences or the Fairview leadership development cohorts.
What's a recent mistake you've made? How did you recover?
I didn't check my calendar in advance and arrived at work at 7:15 am to discover I was supposed to be at a meeting somewhere else at 7:00 am. Fortunately I was able to call in, but I now check my calendar the day before.
What other organizations in the community do you work with or are passionate about?
I am fortunate that my team participates in a variety of community outreach events. I participate in a lot of fundraiser walks to support various specialty diseases. I like to volunteer at Feed My Starving Children and Ronald McDonald House, as well as donating to the Masonic Children's' Hospital.
What is one thing that you are exceptional at?
Staying positive!
Read More People 2 Know Posts: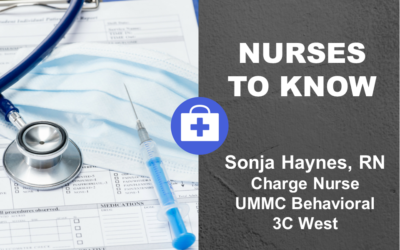 Sonja Hayes is one of the Charge Nurses on the UMMC Behavioral Unit 3C West. Sonja has spent her entire nursing career at Fairview. She started in 1989 working with medical infectious diseases and at that time they would do procedures in the room. In 1996, she...