Off the Record with Richie Howell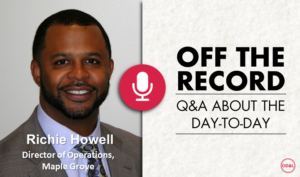 Richie Howell, Director of Operations at Maple Grove, started with Fairview over 18 years ago with a bachelor's degree from the U of MN. He was with Fairview clinics back when the PACE system was around prior to Epic. After deciding his original goal of being a teacher wasn't right for him, a friend suggested he apply for a role at Fairview. He did and was hired as a Physician Staffing Specialist, recruiting casual physicians and scheduling them where needed. He later received a promotion to Provider Employment Manager where he managed third party payer enrollment, recruitment and orientation for providers, and CME dollars for Fairview employed physicians. During this role he was asked to be a part Excel, one of Fairview's leadership development cohorts. As Richie continued to learn and grow, he was promoted to the Central Business Office Clinic Revenue Cycle Director. In 2013, he moved into the Director of Operations role at Maple Grove, where he currently resides.
What is best part of your work day?
Best implies there is only one and there are so many great things about each day. I really enjoy interacting with patients. It can be as simple as, "How's your experience?" or "How's the weather?" or helping them navigate the facility.
In two sentences or less, what is something you would like everyone to know about your work?
In the Ancillary Support Services area, we work to promote exceptional care in our facility. The work is challenging and rewarding as we continue to understand customers' expectations and how to exceed those.
What is one productivity tool or resource that you couldn't live without?
Patient experience score cards! I look at them daily. We've created spin off reports to drill down into greater detail. We document feedback from patients through comment cards and respond to each one whenever possible. In one instance, an investment was made to install digital wayfinding monitors as a response to feedback from our patients. Healthcare in Minnesota is competitive and even more so in Maple Grove. We have to continue to find ways to exceed patient's expectations.
What is a unique way you stay resilient in your role?
My father is a pastor for an inner city church. Through him and my faith I continue to be thankful for what I have and try to stay positive. I have my difficult times just like everyone else but I wake up saying, "It's going to be a great day." I tell staff as I make my rounds, "It's going to be the best day." I believe in saying the words out loud and repeatedly to get in the right mind set. Praying is also a big part of my life and what helps me to stay resilient.
What is your favorite book or movie?
Not sure about favorite but right now I am watching The Hunger Games series. I like the message that leadership can come in many forms and it's up to the individual to address challenges when they are presented.
What is your leading Insights color and how do you utilize that color energy?
Through my lead color of yellow, I engage team members and see what potential they have. I focus on their development. Maple Grove's engagement scores are awesome and I truly believe that's because of how we interact with each other. Through transparency we have built trust.
Describe a good habit you have.
Self-care. Through church and teaching at Sunday school I get filled up. I try to eat right and exercise as I know it's important for me.
What is the best advice you have ever received?
If you stop learning, you stop growing. If you stop growing, you get passed up. It's up to us to continue to learn at work, home or otherwise.
What's a recent mistake you've made? How did you recover?
I presented my first A3 to the ambulatory surgery center board. When presenting, we got into the weeds because I wanted them to see the big picture. We moved away from the information they needed to approve my request. Thus, it wasn't approved during the meeting because we lost focus. I was invited to another board meeting where I apologized. At that meeting, we focused on what they were there to approve.
What other organizations in the community do you work with or are passionate about. 
Shiloh Temple in North Minneapolis. Through Shiloh I can support the community and build relationships with God and others.
What is one thing that you are exceptional at?
Problem solving and getting feedback from various perspectives to develop best solutions to problems.
Read More People 2 Know Posts: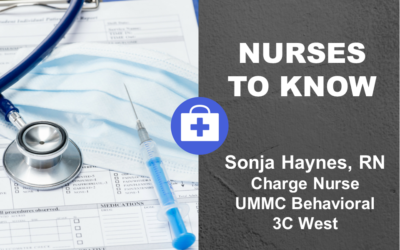 Sonja Hayes is one of the Charge Nurses on the UMMC Behavioral Unit 3C West. Sonja has spent her entire nursing career at Fairview. She started in 1989 working with medical infectious diseases and at that time they would do procedures in the room. In 1996, she...