Sign up today for free classes and webinars to develop your skills! Consider adding one or more of these classes/webinars to your development plan.
We offer both Development Classes and Development Webinars. Development Webinars are focused on smaller, easily digestible topics that can be completed from any computer at home or work.
Personal Development 
Click any of the bars below to view an expanded description of the class, schedule, and location.
Generations in the Workplace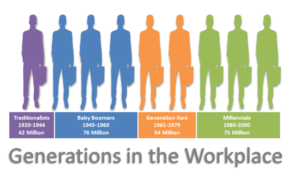 Participants will gain an understanding of generational preferences and tendencies around communication, motivation and learning styles for each of the four generations that currently make up our workforce.  Participants will also consider the impact that major life influencers have on each generation; while these influencer's impact generational characteristics, participants will recognize the importance of understanding that each individual is unique and may or may not fully align with their generational categorization. Commonalities between generations will be identified as well as ways to better connect with, and adapt to, each other.
Schedule
July 9, 2019: 7 – 8:00am
December 12, 2019: 11:30-12:30pm
Impact of Perception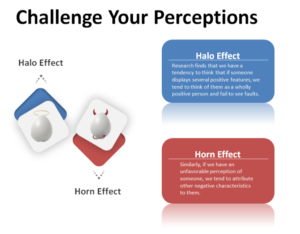 It's important to understand the impact of perceptions and how they may affect our organization. Participants will gain an understanding and realize the power of challenging their own perceptions while understanding how to influence the perceptions of others. Participants will be encouraged to explore where perceptions and beliefs come from and how to increase personal awareness related to perception.
Participants will understand the importance of their own perceptions and the perceptions of others in order to strengthen their personal and professional relationships. Each participant will be provided tools to reframe perceptions and strengthen connections amongst each other.
Schedule
May 1, 2019: 1:30 – 2:30pm
October 2, 2019: 7 – 8:00am
Manage Stress Before it Manages You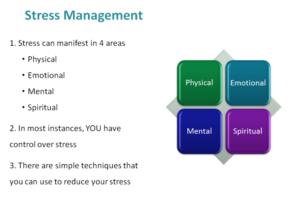 Using effective stress management strategies is essential to the organization to promote a safe and healthy work environment. It is important to utilize your inner resources to find greater health and well-being to encourage excellence in the workplace and to provide excellent experiences for our patients and their family members.
Participants will define stress; identify stress triggers and strategies for reducing stress. Through discussion four key areas that stress can manifest itself will be introduced.  Participants will then have the ability to reflect upon their own stress management and then identify ways to effectively manage stress in a sustainable way. Participants will increase their awareness related to stress triggers and the importance of managing these triggers.
Schedule
March 26, 2019: 7 – 8:00am
August 6, 2019: 1:30 – 2:30pm
Opportunity of Ambiguity
Ambiguity, referred to as uncertainty during times of change, can be stressful and difficult to deal with. Yet this condition can provide unique opportunities for both personal and professional growth. Participants will identify and understand their personal comfort level with ambiguity and recognize ways to leverage ambiguity to create growth opportunities. Participants will be given tools to minimize ambiguity.
Schedule
June 18, 2019: 10 – 11:00am
October 17, 2019: 2 – 3:00pm
Professional Development
Keeping Learning Alive at Fairview
Professional development is an essential part of creating mastery and purpose in the work we do.  It can impact how we deliver the best care possible to our patients.  It can also impact how engaged we feel as employees.  Participants will be asked to reflect upon and discuss the importance of professional development.  The 70/20/10 Theory will be used to describe and identify a variety of options for ongoing development.  Actionable tools will be provided to assist participants in creating their own plan for professional development.
Schedule
March 7, 2019: 2 – 3:00pm
August 22, 2019: 10 – 11:00am
Power of Feedback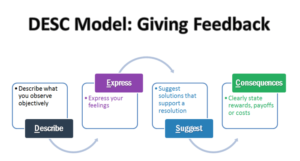 As an organization it is crucial to understand the importance of giving and receiving peer to peer feedback. Feedback is given to help someone else improve, which in turn ensures that patients and families are receiving the best care and service possible.  Participants will learn three levels of feedback: task, process and personal. During this session, participants will discuss and practice the DESC model to give feedback and the PALS model to receive feedback.
Participants will be asked to identify and share situations where they could have given feedback to another person and discuss how they could effectively give feedback in the future. Participants will leave with a tool they can use to give and receive feedback when working with others.
Schedule
June 13, 2019: 11:30 – 12:30pm
November 14, 2019: 7 – 8:00am
Time Management & Conquering the Crush of Email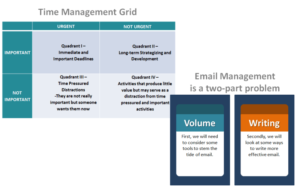 As individuals plan their day/week – they should be considering their priorities and understanding which will have the biggest impact for the organization. Time management and email management is a proactive approach that creates a healthy environment that encourages workplace excellence and engagement.
Participants will have the ability to explore how they manage their time and priorities while considering a proactive approach to becoming more productive. Participants will be show tools for application to successfully manage their time wisely and be more productive. They will also receive practical tips to improve email communication as well as leave with actionable steps to become a more effective communicator.
Schedule
April 23, 2019: 7 – 8:00am
September 20, 2019: 11:30 – 12:30pm
Wellness Webinars
Click any of the bars below to view an expanded description of the class, schedule, and location.
Fully Charged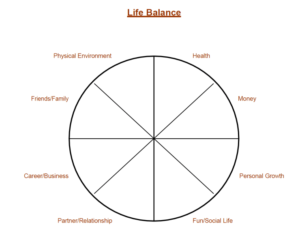 Presented by Employee Wellness Services
The three keys that matter most for daily well-being and engagement at work will be introduced. Participants will be challenged to create meaning, have greater interactions with people who matter most, and put own health first to be their best. They will then identify practical ways to be 'fully charged' and create a plan for daily well-being.
Schedule
March 20, 2019: 12-1pm
May 23, 2019: 11-12pm
June 25, 2019: 11-12pm
July 17, 2019: 11-12pm
Are you ready to take your skills to the next level?  Enroll in one of our Development Classes or Development Webinars today!