Team Discussion Guides use adult-learning principles combined with strategies for quick application to immediately – in about 15 minutes! – contribute to your team's understanding.
What is a Team Discussion Guide?
Team Discussion Guides are tools designed to equip leaders to personally lead the development of their direct-report team using pre-designed content, tools and resources.
Team Discussion Guides are created by using adult-learning principles combined with strategies that can be applied immediately to assist you in developing and creating immediate actions.
We hope these guides will provide structure to make it easier for you to host engaging and productive conversations with your team while providing opportunities to explore new learnings.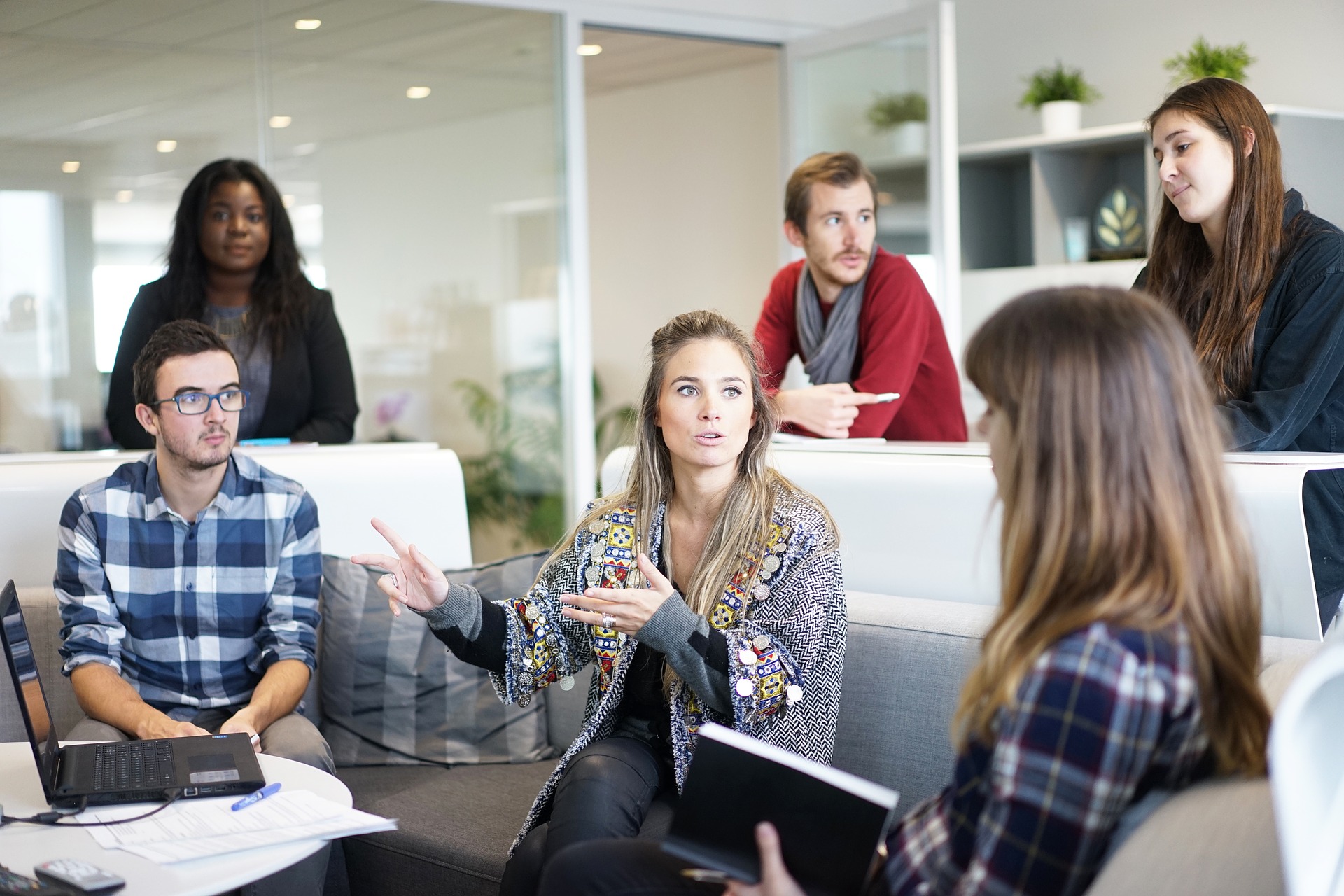 How does it work?
Each Team Discussion Guide provides discussion prompts that are intentionally framed to create space for conversations centered around key points to contribute to teams' understanding.
Team Discussion Guides are designed to be delivered in 15 minutes or less. They can be delivered as a part of a standard meeting or as a dedicated gathering focused on development.
Each department/team leader is responsible for leading the session for their direct reports using the tools and resources provided.
What is included in each guide?
While each Team Discussion Guide is designed to look and feel a little different based on the topic, all guides will include the following resources: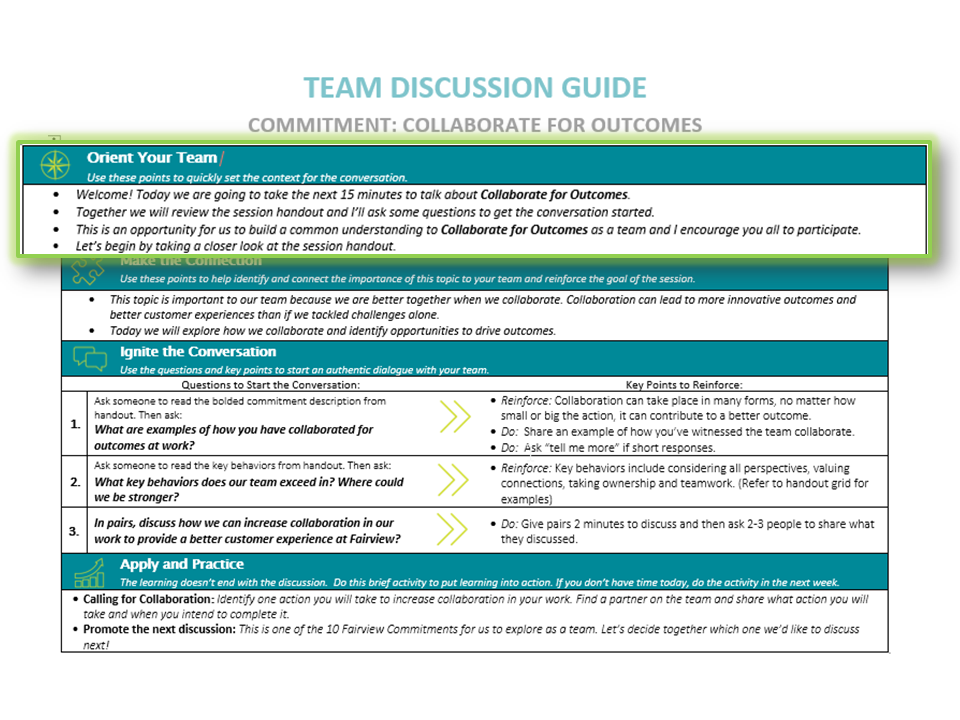 Orient Your Team The information in this section will help you quickly set the stage at the start of the session, including an introduction to the concept of a Team Discussion and the topic.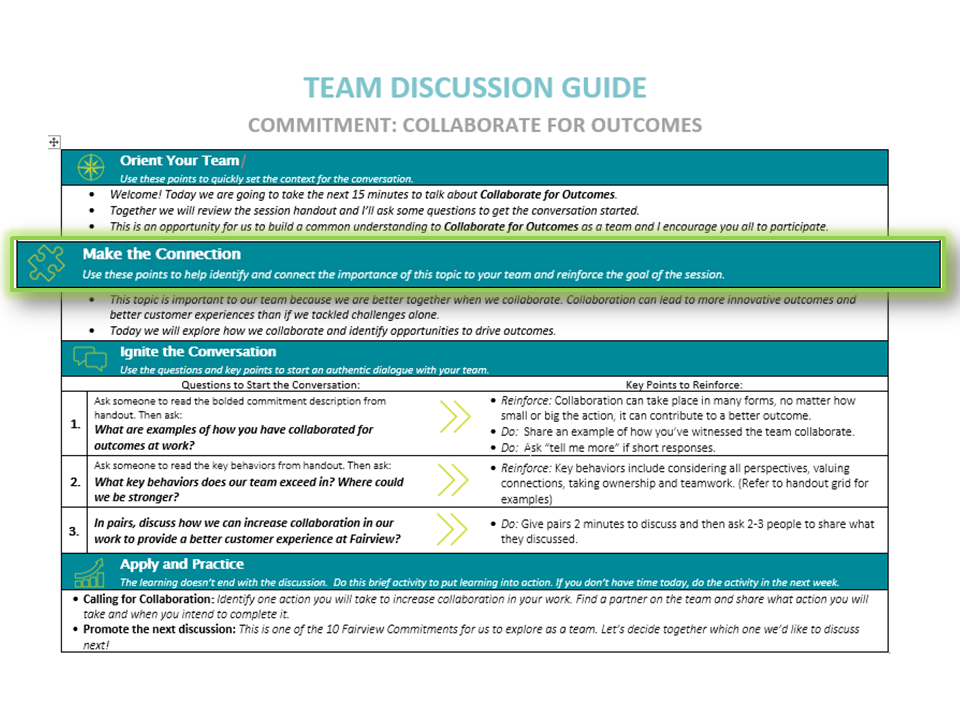 Make the Connection Use these key points to connect the importance of the topic to the team and share the goal for the session.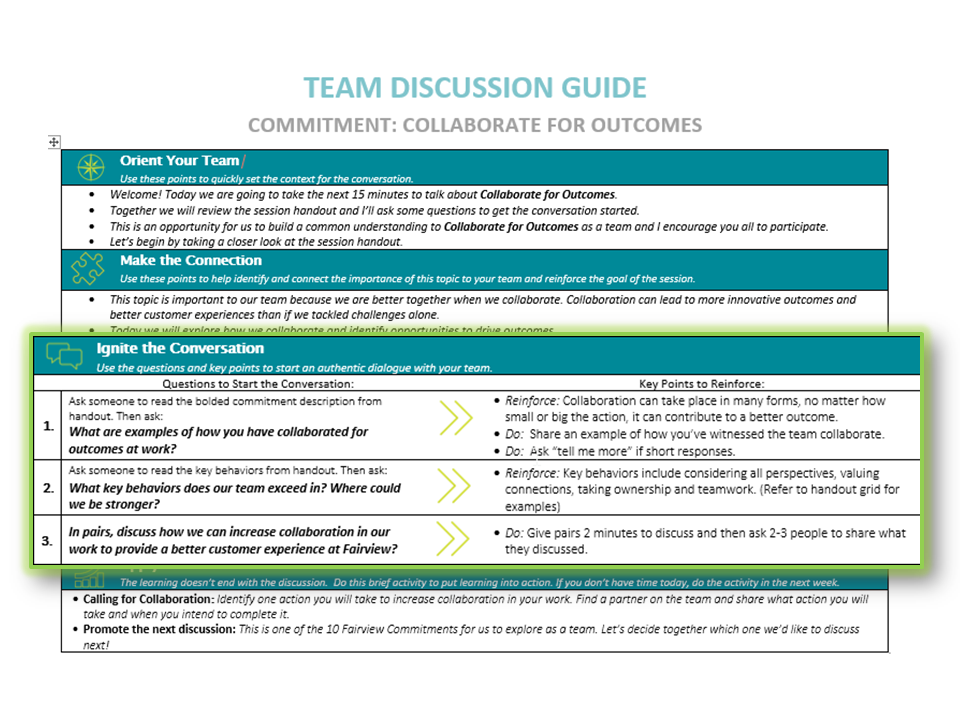 Ignite the Conversation This is the heart of the tool. Once you have set up the conversation, use the instructions and questions in the left column to start the conversation!  Use the key points to reinforce messages and guide the conversation further.  Of course, feel free to add specific examples for your team throughout the discussion to help make connections and build understanding!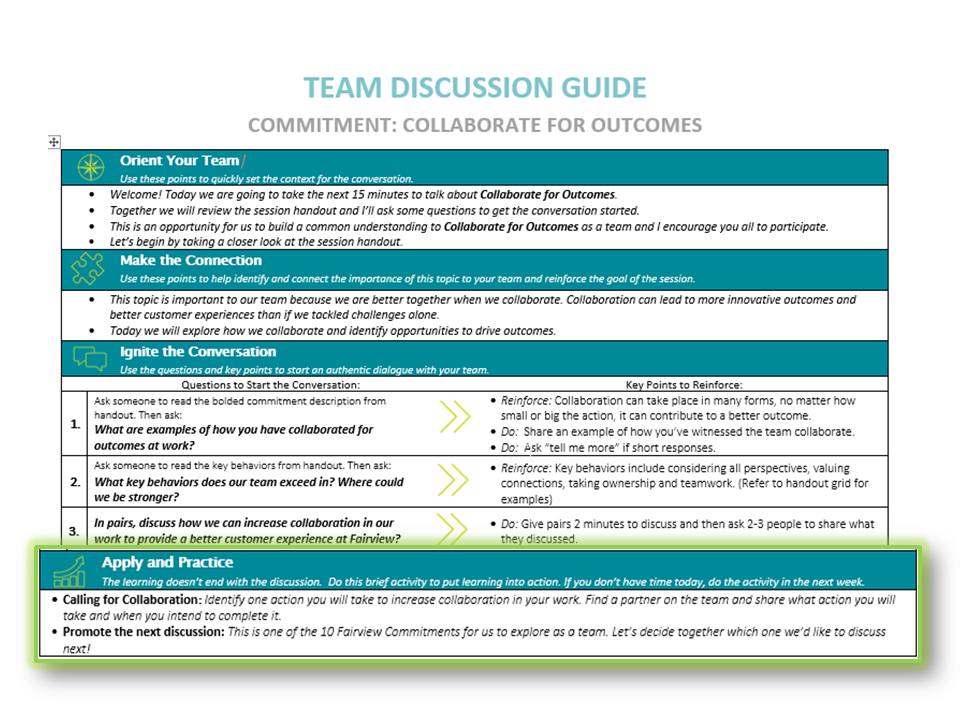 Apply and Practice Lastly, Apply and Practice introduces quick and easy ways to help the team translate their knowledge into action.
How do I get started?
It's easy! View the list of Team Discussion Guides below and complete the Team Discussion Guide Request Form at the bottom of the page. You will receive an automated email from the OD&L team which will provide you with the materials needed to conduct a successful learning discussion with your team.
Don't forget to check back frequently as these topics will grow over time.
Black Lives Matter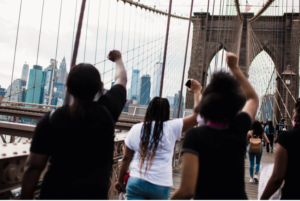 How did the Black Lives Matter movement begin? And what do people mean when they say, "Black Lives Matter"? Lead a discussion with your team on the history and importance of this movement, and how to get involved and learn more.
Grounding in Diversity, Equity, and Inclusion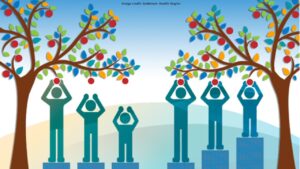 We hear these words – diversity, equity, and inclusion – all the time. What do they really mean? Why are they important topics? And what role do they play at M Health Fairview? Explore these concepts and their significance for our organization.
Implicit Bias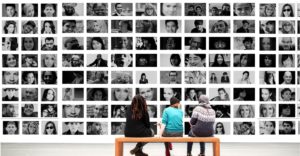 Implicit bias is unconscious thinking that causes people to generalize and stereotype others without intending to do so. implicit bias has a direct impact on patient outcomes and experience, as well as our experience as employees. We all have implicit biases; what we chose to do with them makes all the difference.
As an organization, we are committed to building awareness about implicit bias and taking steps to mitigate it for our patients and employees. These four team discussion guides will introduce the concept of implicit bias and how it is formed, explore the different types of implicit bias, learn more about how to confront implicit bias, and explore the concept of patient bias.
While all these guides are extremely valuable on their own, we recommend that leaders request and complete them in the following order for best results:
Implicit Bias: Ground your team in a foundational understanding of implicit bias, how it is formed, its impact, and how we can reduce it.
Types of Implicit Bias: Explore different characteristics that are subject to implicit bias.
Confronting Implicit Bias: Now that we know what it is, how do we confront implicit bias in ourselves and help others do the same?
Understanding Patient/Customer Bias: Help your team learn how to confront implicit bias when experiencing it from a customer or patient.
Understanding Systemic Racism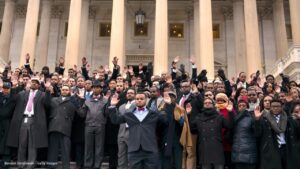 Systemic racism impacts everything people of color do every day. This Team Discussion Guide will lead your team through meaningful discourse on how systemic racism is present in our healthcare system, criminal justice system, educational system, and all other systems that impact human lives. Those who wish to explore becoming part of the solution will find valuable resources to facilitate action.
The Responsibility of Privilege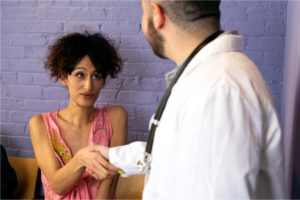 There are many different types of privilege – racial, educational, ability, gender, sexuality, and more. Privilege is often seen as a negative. However, privilege can be used to advocate for equity. This Team Discussion Guide explores types of privilege, encourages participants to identify their own privilege, and describes how privilege can be used to help others.
AIDET - Creating an Exceptional Customer Experience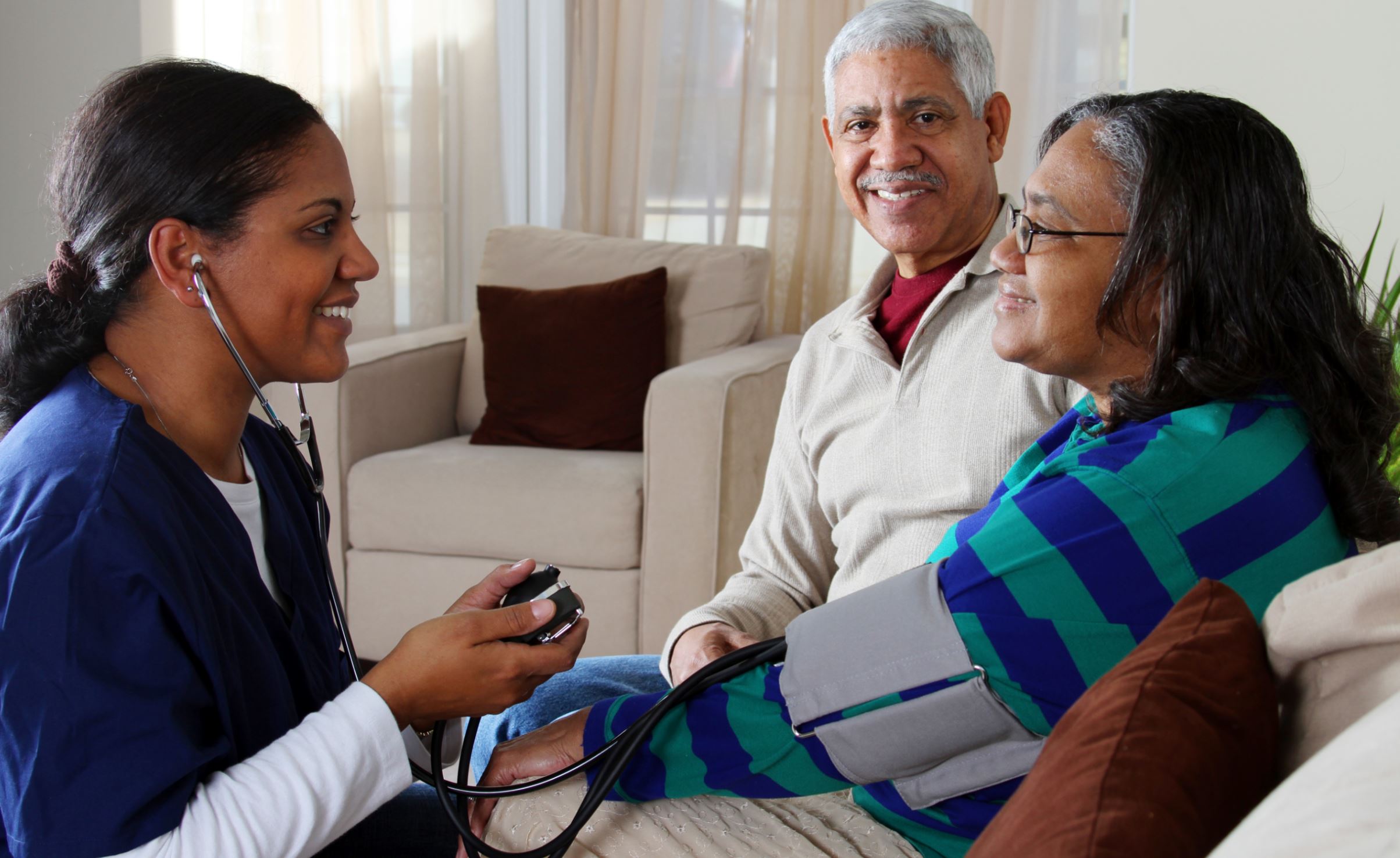 AIDET is a powerful communication tool that is used to create consistent and exceptional experiences for our customers. Whether your team has never heard of AIDET before or uses it frequently, you can use this Team Discussion Guide to help your team draw a connection between AIDET and improved outcomes for our organization and the customers we serve. In addition to practicing the mechanics behind the tool, your team will learn how to enhance and tailor their AIDET through authentic and genuine communication with their customers.
Commitments: Achieve Results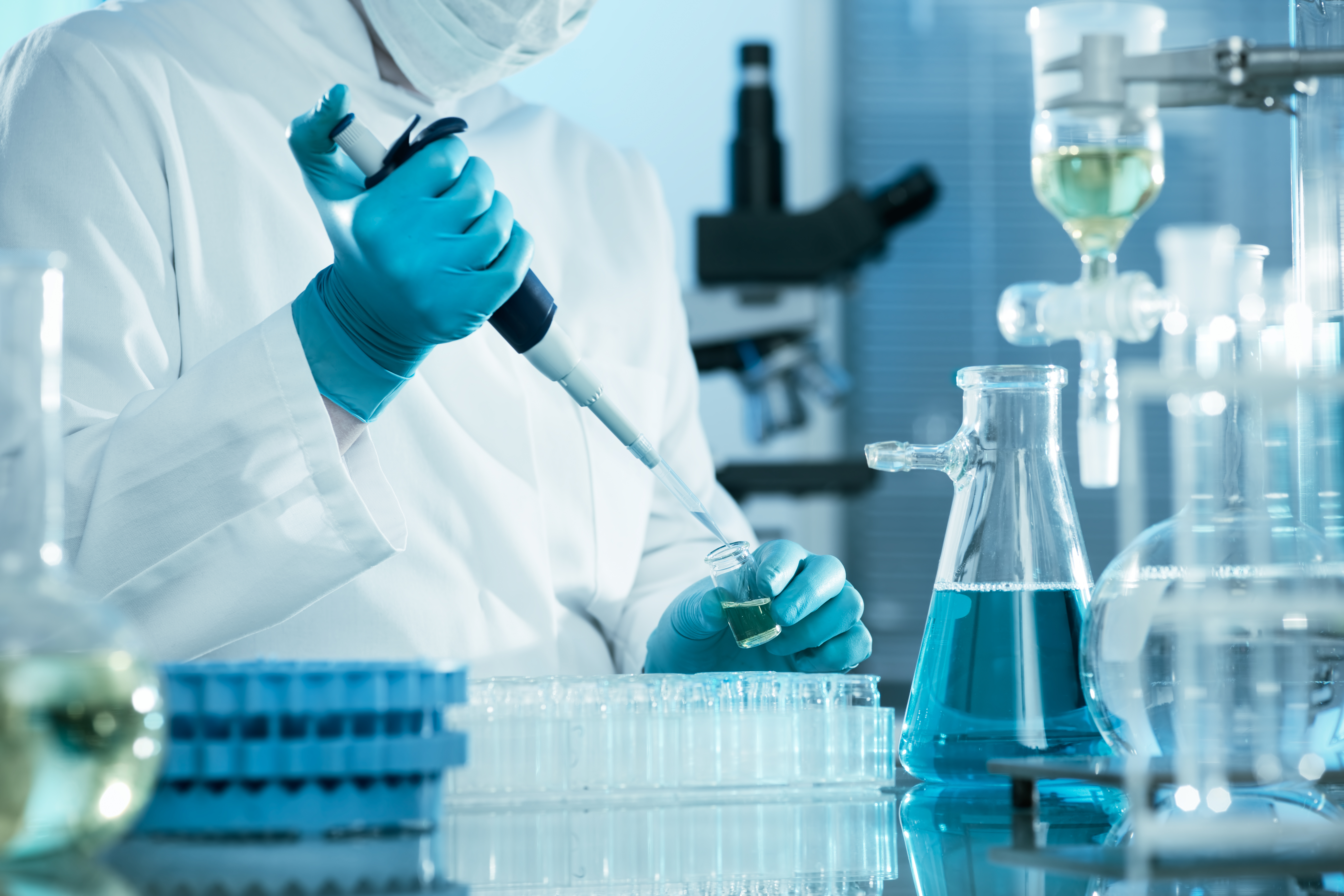 Overcoming obstacles and driving for results is critical to our success as a healthcare organization. Through conversation using the Team Discussion Guide, we will discuss how our team Achieves Results and how we can be more effective. When we are able to execute effectively and deliver measurable outcomes, we are actively driving towards healthier patients and a healthier organization.
Commitments: Collaborate for Outcomes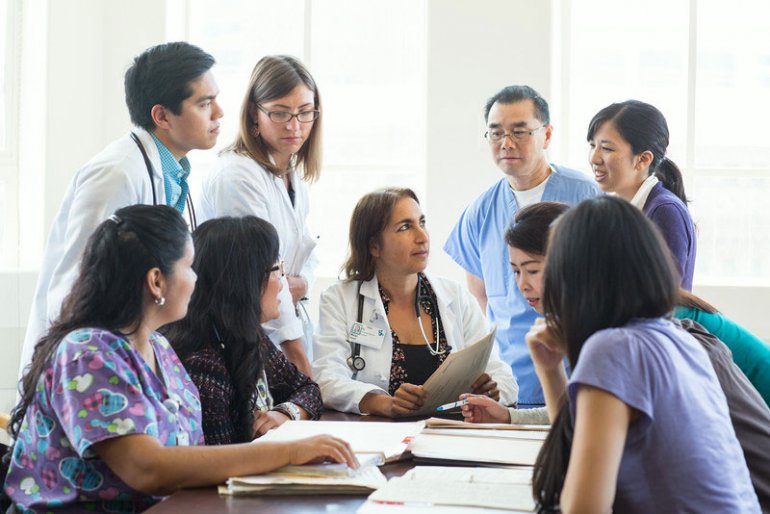 We are better together when we
Collaborate for Outcomes
. The combined efforts of many can lead to more innovative outcomes and better customer experiences than if we tackled the challenges alone. Through conversation using the Team Discussion Guide, we will recognize how we collaborate as a team and identify opportunities for increased collaboration so we can provide a better customer experience.
Commitments: Commit to Development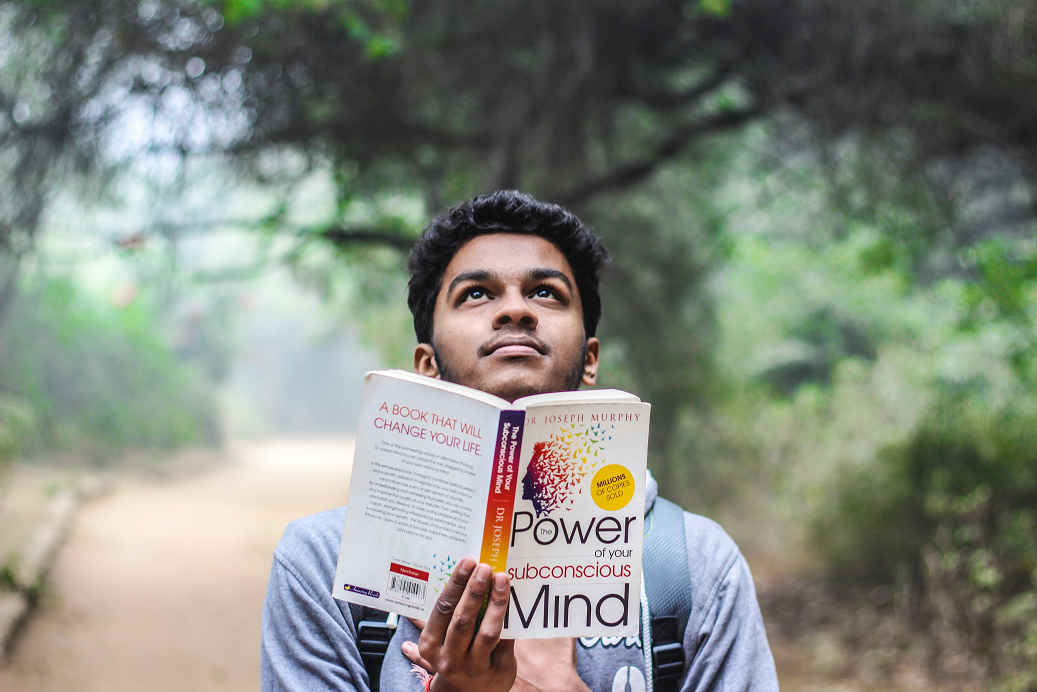 When we push ourselves and others to develop, we produce better outcomes and are more efficient and fulfilled in our work. Through conversation using the Team Discussion Guide, we will discuss how we can Commit to Development and increase opportunities to develop self and others. It is important that we aren't just interested in development, but actively seize ways both small and large to develop and improve every day.
Commitments: Communicate Intentionally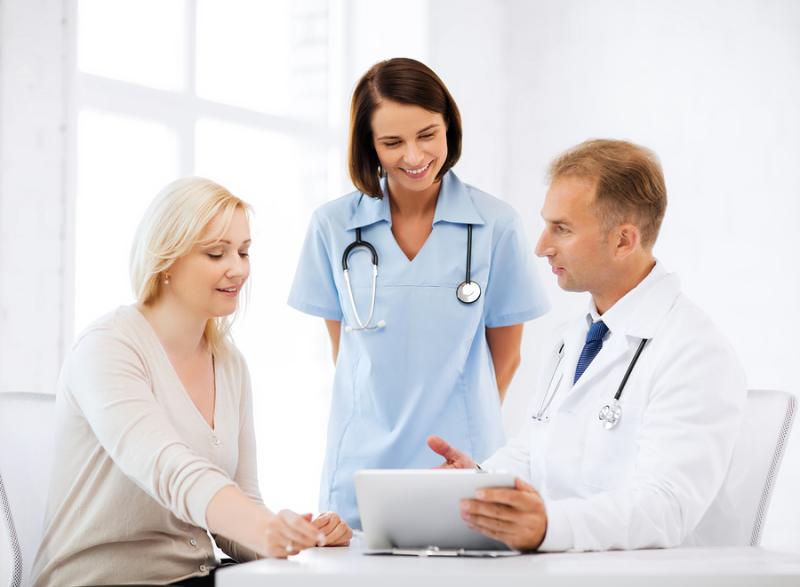 We are more effective when we are intentional and thoughtful about how we communicate. Through conversation using the Team Discussion Guide, we will discuss what communication looks like in our work and identify opportunities to enhance our communication. If we Communicate Intenionally, we will be more efficient, transparent and better able to build relationships with one another and our customers.
Commitments: Create an Exceptional Experience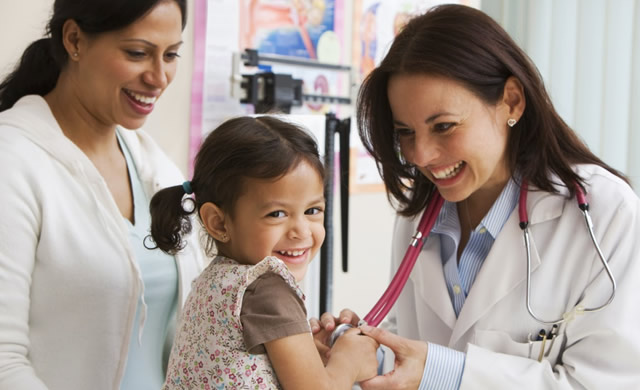 Together we can discover opportunities to create meaningful and memorable experiences for all interactions. This Team Discussion Guide will foster learning and engagement by sparking conversations to empower your team to generate value and continuously improve their work. Team members will identify key behaviors and actions to support their commitment to creating an exceptional experience for all.
Commitments: Engage and Inspire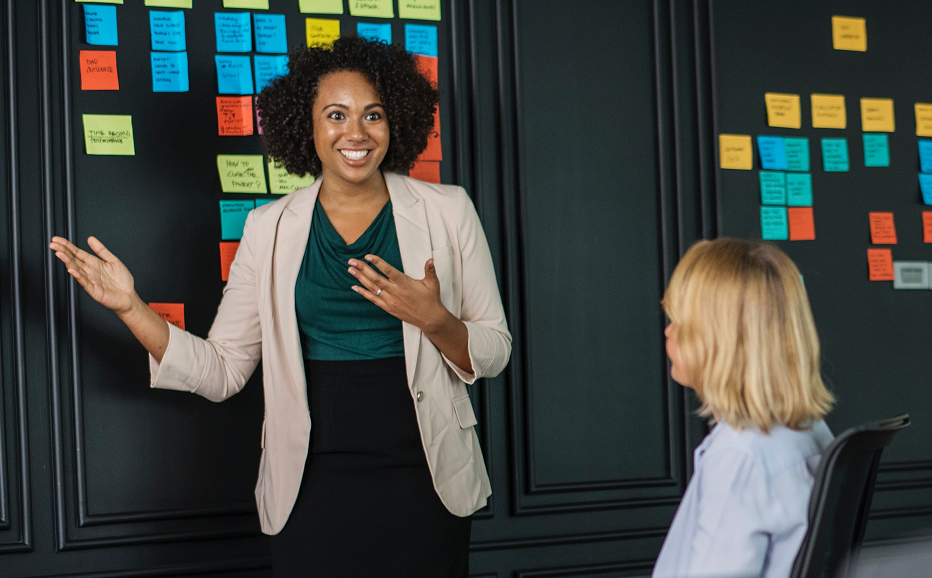 Engaging and inspiring others and yourself builds resiliency and pride for our work. Through conversation using the Team Discussion Guide, we will explore how we can create more opportunities to engage and inspire as a team. The more we can recognize others for their good work, model positivity and extend trust, the stronger we will be individually, as a team and as a healthcare system.
Commitments: Honor Relationships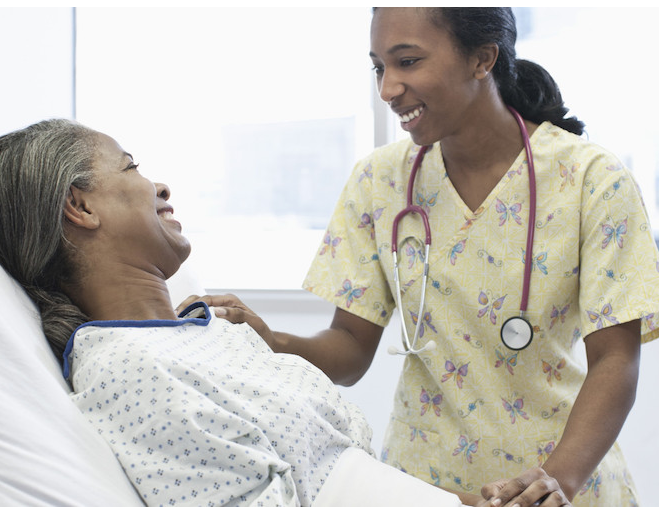 Building and maintaining relationships is core to the work we do. Through conversation using the Team Discussion Guide, we will establish a clear understanding of how we Honor Relationships in our work and identify opportunities to strengthen them. When we mindfully connect with others, we are more fulfilled in our work and our customers and employees feel valued.
Commitments: Identify and Solve Problems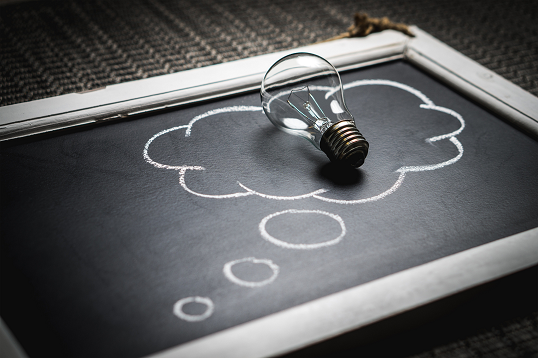 Identifying and solving problems is core to continuously improving our processes and outcomes so we can best serve our customers. Through conversation using the Team Discussion Guide, we will discuss how we Identify and Solve Problems in our work and how we can improve. By tackling challenges with a problem-solving mindset and a focus on solutions, we will be more efficient and proactive in achieving results.
Commitments: Seek Perfection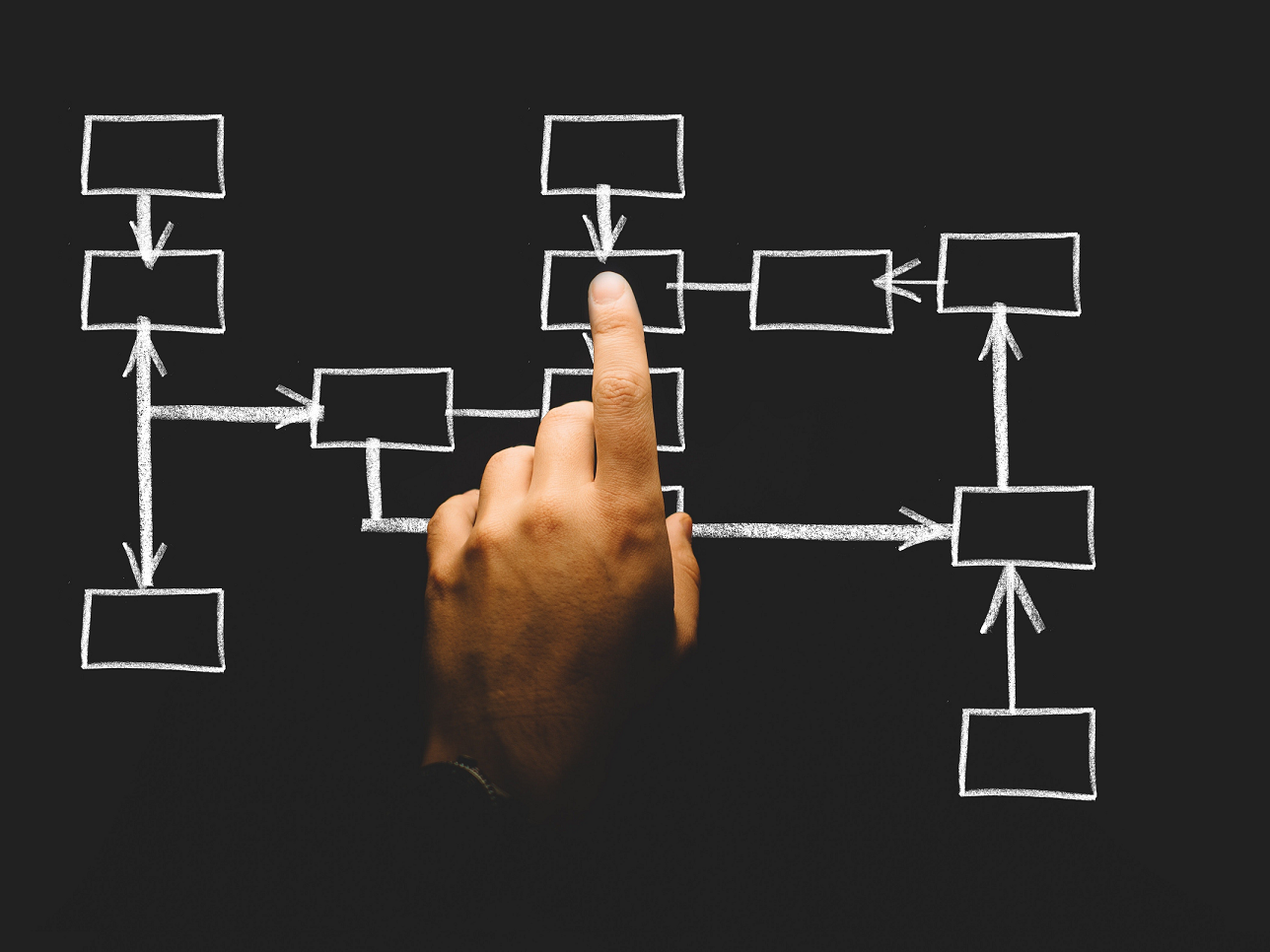 When we seek perfection, we are actively driving towards better outcomes and experiences for our customers. Through conversation using the Team Discussion Guide, we will discuss what it means for our team to seek perfection. On the journey of seeking perfection it is important we never give up or remain compliant to mediocracy, but push forward to create a better future for Fairview and those we serve.
Commitments: Set and Hold Standards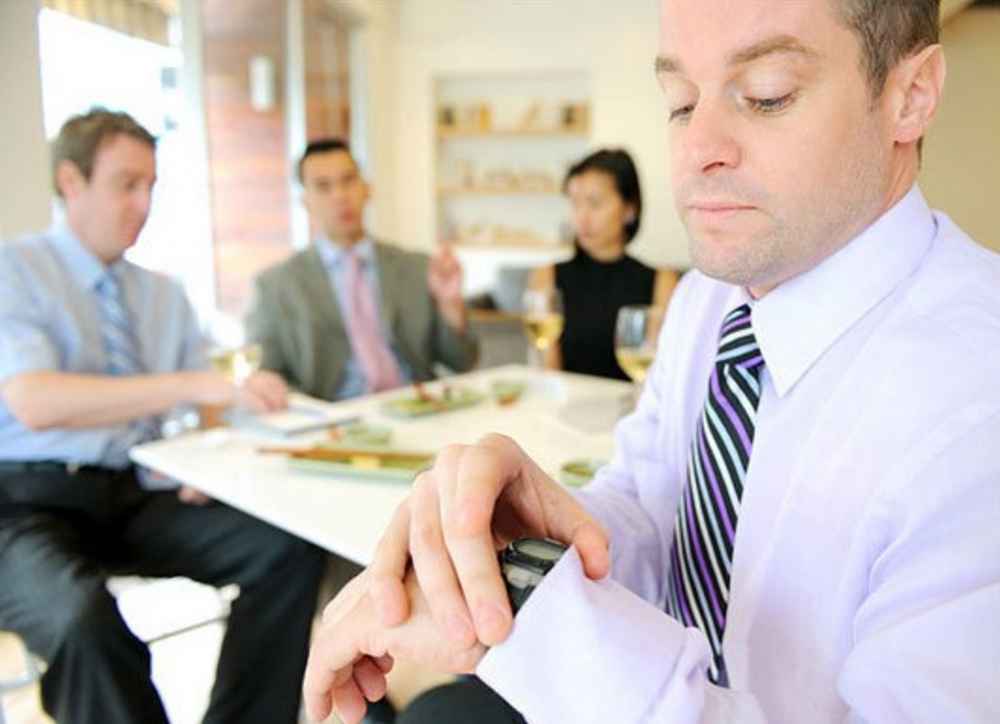 Setting and holding standards ensures we are consistently improving our work and consistently delivering results. Through conversation using the Team Discussion Guide, we will discuss how we Set and Hold Standards and explore ways in which we can improve. If we are accountable for our actions and know what is expected of us, we will be more efficient and effective in our work.
Performance Management at M Health Fairview
At M Health Fairview, we want employees to own their success and have a role in managing and evaluating their performance.  Use this Team Discussion Guide to engage your team in a conversation around the 3 Areas of Ownership that employees will be evaluated on, along with the 5-level scale that will be used to rate each of those areas. Then discuss how employees can be involved in the process by participating in on-going conversations with you about their performance throughout the year, completing a self-evaluation, and entering a development goal.
Performance Management - SMART Goals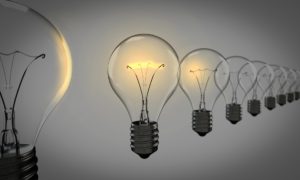 All employees are required to have an organizational goal(s) and an individual development goal as part of the annual performance review process.  Creating goals that are SMART ensures that they are meaningful and measurable, aligning to the organization's strategic priorities, and supporting an individual's growth and mastery.  Use this Team Discussion Guide to talk with your team about the importance of setting SMART goals and how to create goals that are Specific, Measurable, Attainable, Relevant, and Time Bound.