Sign up today for a team development session!
Our Team Development Sessions are designed to engage learners while providing practical and actionable tips that will increase team effectiveness and develop team members, both personally and professionally. These 50-minute classes are delivered 'off-the-shelf" by a Training Consultant from the Organizational Development & Learning team.
Conquer the Crush of Email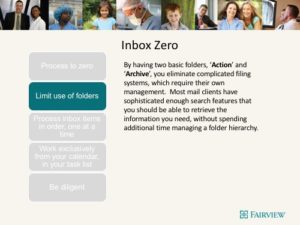 Participants will gain useful tools to manage the volume of emails while writing clear, concise and focused messages.  General email management techniques will be outlined to set the stage for two proven techniques that participants may choose from.  The 5D System (delete, deposit, delegate, do, defer) will be discussed and ideas for implementation will be given.  Inbox Zero will be discussed as a second email management option along with methods to adapt this technique.  Participants will walk away with knowledge and tools to write better emails and manage their inbox more efficiently.
Key Learning Points:
Communicate better by writing more clear, concise and focused email messages.
Proactively manage the volume of email you receive.
Learn the 5D System for email management.
Learn the Inbox Zero method of email management.
Cultural Intelligence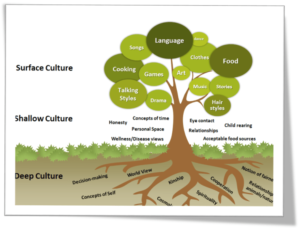 Cultural intelligence is a skill that can enhance individual's capability to move fluidly and work successfully with different customs and cultures. Through this highly interactive and relational experience, teams will gain a greater understanding of their role in diverse situations and will learn how to develop tools for establishing and maintaining stronger relationship to promote professional success.
Key Learning Points
Gain understanding to define cultural intelligence, what culture is and how it functions in our lives
Heighten cross-culture awareness and celebrate cross-cultural knowledge awareness
Identify the 3 Dimensions related to Human Behaviors
Adapt to grow and gain cultural competence through the Wheel of Cultural Intelligence
Generations in the Workplace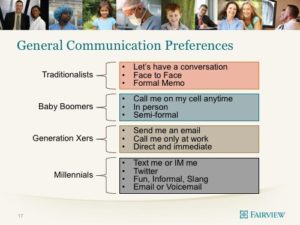 Participants will gain an understanding of generational preferences and tendencies around communication, motivation and learning styles for each of the four generations that currently make up our workforce.  Participants will also consider the impact that major life influencers have on each generation; while these influencer's impact generational characteristics, participants will recognize the importance of understanding that each individual is unique and may or may not fully align with their generational categorization. Participants will discuss commonalities between generations and ways to better connect with, and adapt to, each other.  
Key Learning Points:
Generational generalizations are a starting place to understanding others
Generational influencers impact individuals' preferences and tendencies
Each individual is unique and has preferences and tendencies that may or may not align with their generational categorization.  Understanding generational characteristics and individual preferences will help individuals work more effectively with others
Impact of Perception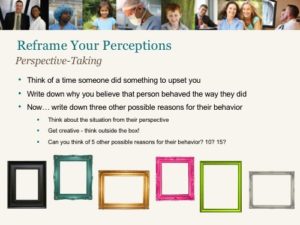 Participants will gain an understanding and realize the power of challenging their own perceptions while understanding how to influence the perception of others. Participants will also consider how they see the world and gain a better understanding of their own unique realities.   The session will encourage participants to explore where perceptions and beliefs come from and how to increase personal awareness related to perception. Participants will understand the importance of their own perceptions and the perceptions of others in order to strengthen their personal and professional relationships.
Key Learning Points:
Understand how perceptions help us gain awareness and understanding of ourselves and others.
Recognize how perceptions are created gives us the power to understand and challenge our own perceptions as well as the ability to influence the perceptions of other people.
Perception management skills assist individuals with managing the perceptions we create and building awareness towards unmanaged perceptions and the impact they can have on you and your relationships with others.
Manage Stress Before it Manages You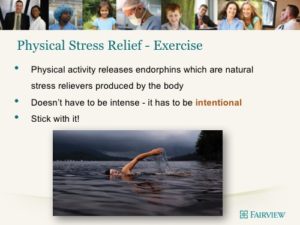 Using effective stress management strategies is essential to the organization to promote a safe and healthy work environment. It is important to utilize your inner resources to find greater health and well-being to encourage excellence in the workplace and to provide excellent experiences for our patients and their family members.
Participants will be expected to learn how to define stress, identify stress triggers and strategies for reducing stress. Participants will be expected to discuss the 4 key areas that stress can manifest itself, reflect upon their own stress management and then identify ways effectively manage stress in a sustainable way.
Participants will identify simple techniques and strategies to cope and reduce stress within their lives.  Participants will increase awareness related to stress triggers and the importance of managing these triggers.
The Power of Feedback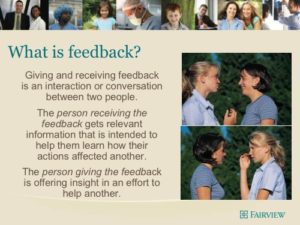 The focus of this session is to understand the importance of having conversations with others to help them succeed on three levels: task, process and personal. Oftentimes we struggle with 1:1 conversations because we don't like conflict. During this session we will discuss and practice the DESC model to give feedback and the PALS model of receiving feedback.  We will also talk about what participants can do when they don't agree with feedback.  Our goal is to shift the paradigm away from feedback being about the giver and help participants learn how to self-reflect.
 Key Learning Points:
Feedback is usually given because others care about you; it is a positive, not a negative
Giving feedback can be effective when using a 4-step process called DESC
Use the PALS model of receiving feedback, even if you don't agree with the feedback
Running Effective Meetings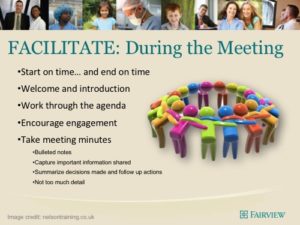 Participants will learn both tactical and interpersonal strategies for running an effective meeting. Participants will consider the impact that effective meetings have on a team's productivity in comparison to ineffective meetings. The course provides established best practices for the mechanics of running an effective meeting, including agenda creation and pre-work, facilitation tips and meeting follow-up recommendations. Participants will work together to identify actionable strategies for overcoming disruptive behaviors during meetings and will walk away with tools, resources and practical tips for running effective and productive meetings.
Key Learning Points:
Learn practical tips for running effective meetings
Understand best practices for preparing for a meeting, facilitating a meeting and following up after a meeting
Develop strategies for overcoming disruptive behaviors during meetings
The Science of Happiness
Science has proven that happiness has a positive effect on our health.   People have control over their own ability to be happy.  This educational session walks participants through data and statistics that support the science behind happiness.  Basic, easy to use tools that can be will be taught that can be incorporated into daily life to increase levels of happiness.
Key Learning Points:
There is scientific proof that the brain can be trained to increase levels of happiness.
Happiness is a choice.
A person's level of happiness has a direct correlation to their health.
By committing to one of five simple habits, the learner will be able to create and strengthen neuropathways in the brain to increase levels of happiness.
Time Management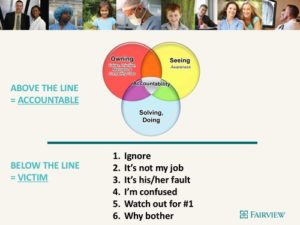 Participants will walk away with a greater awareness of the five components of time management.  A correlation will be made between the ability to manage time well and the effective and efficient use of resources.  After evaluating their own skillsets, participants will be encouraged to focus on improving one of the five components.  Actions will be discussed and identified.  Participants will leave the session with relevant and actionable ideas that can be put in to practice immediately!
Key Learning Points:
Discuss the importance of time management and the impact time management has on the effective and efficient use of resources
Asses your time management skills and identify the greatest opportunity for improvement
List the five components of time management and create an action plan to improve one of them
Understanding Implicit Bias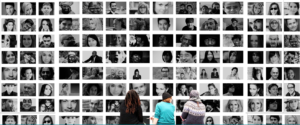 This session will help learners see how implicit bias and microaggressions impact our patients, our customers, and each other. Through clear definitions, thorough explanation of how implicit biases are formed, and cause-and-effect case studies, learners will leave this session with an awareness of their own implicit biases, as well as how these biases may be expressed as micro-messages. This session will provide guidance for participants as they work to determine what their individual implicit biases are, how they are formed, and how they can address them.
Key Learning Points:
All of us have implicit biases that are expressed in our daily lives, often without us noticing.
These biases are formed unconsciously, influenced by many factors, including our experiences, our environment, and our sense of self.
Microaggressions that are a result of implicit bias can negatively impact our patients and each other, often leading to poor health outcomes and loss of employee engagement.
Awareness is the first step to addressing implicit bias.
Are you ready to take your team's skills to the next level?  
Request a Team Development Session today!