Tips to Engage with Employees (Patients) Observing Ramadan
Some of our employees and providers, and many of our patients as well as community members, will observe Ramadan during the months of April and May. According to Islamic Society of North America, the first day of this year's Ramadan will be on Friday April 24, 2020. The word "Ramadan" simply refers to the name of a month, the ninth month of the Islamic calendar. The month is considered to be the holiest of the twelve.
Ramadan – 30 days of fasting means no food, no drink (incl. water), and in some cases not taking oral medication, from sunrise until sunset. It includes smoking, chewing-gum and abstaining from eating anything. If you have employees who are observing Ramadan, you can try to engage them with the following tips:
Communication
Ensure all staff that work with Muslim colleagues, patients and community members are aware of when Ramadan is approaching.
Fasting & Scheduling
Low energy is one of the month's biggest challenges for some Muslim colleagues.
Schedule meetings (or patient appointments) in the late mornings (10-11 am) would be the preference, especially the last 10 days of Ramadan ( around May 13, 2020 onwards). Some practicing Muslims might participate in night prayers that require the person to be up entire night and/or get limited sleep.

Ask what/how accommodation is needed for employees before Ramadan
Ask your employee if you notice his/her needs during Ramadan

Recognize that due to fasting, colleagues might have a challenge working heavy manual labor, and may wish to perform additional prayers.

Employees might request frequent short breaks, instead of a full-lunch break. Consider ways to accommodate these requests.

Colleagues may avoid eating food/drink during meetings.

It would be helpful to not schedule a social event/ team meeting/ "working lunch" where food is included. If food at a meeting/social event is required, ask what accommodations are needed from all staff (instead of asking/assuming Muslim employees only).
Let all employees know you (as a leader) will accommodate as needed.

Employees may request time-off during the last 1-3 days of Ramadan ( around May 20, 2020 onwards)

HR Rep team can assist you and your employees, if you have questions/clarifications.
Prayer
Employees might take breaks for prayers. It is time when practicing Muslims have spiritual reflection through prayer.
Prayer might take 5-10 minutes, in general. However, cleansing (ablution) might be required before prayer which would take 15-20 minutes of employee's time.
For evening shift employees, sunset prayer- which is to break their fast – is important. Employees may request to take a break around that time. In Minnesota, this year's sunset prayer is around 9 pm.
Chapels and designated multi-purpose rooms are available for our employees and patients of all spiritual backgrounds, including Muslims.
Friday afternoon congregation prayer-Juma is required for males and it takes 45 minutes to an hour, not including driving time.
However, these are general guidelines- not all Muslim employees are monolithic, they differ from generation to generation, culture to culture, level of education and role of religion in their lives.
Ramadan can signify to increase an engaged and beneficial communication between Muslim employees and their managers.
Ramadan greeting is: "Ramadan Mubarak!" ( Ra-ma-dan Mu-ba-rak), meaning " Have a blessed Ramadan!" (Have a blessed holy month!). Of course, you can say this greeting to your patients, family members too!
Additional resources:
Written by: Myat T.Tun (OD&L, HR)
Edited by: Zahra Hassan (Community Health, UMMC), Chaplain Sharif Mohamed( Spiritual Health Services), Brianna Cattrysse, (OD&L, HR)
Reviewed by: Cathy Neary (HR Manager, Physician Support Center), Razak Ali ( ESC, HR), and Hanane Kachman ( Talent Acquisition, HR)
Source:
http://irgmn.org/interacting-with-muslim-employees/
http://www.hrzone.com/perform/people/ramadan-at-work-hr-best-practice
http://www.acas.org.uk/index.aspx?articleid=4868
http://www.isna.net/ramadan-1439-2018/
Read More Culture & Engagement Posts: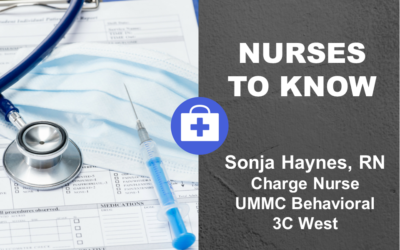 Sonja Hayes is one of the Charge Nurses on the UMMC Behavioral Unit 3C West. Sonja has spent her entire nursing career at Fairview. She started in 1989 working with medical infectious diseases and at that time they would do procedures in the room. In 1996, she...